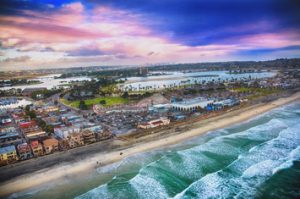 Surf, sun and sand provide the backdrop to the wonderful carnival that is Mission Beach. Anchored by historic Belmont Park amusement center and its Giant Dipper rollercoaster, Mission Beach has been the focal point for San Diego's beachgoers for more than a century.
Flanked by the Pacific Ocean on one side and Mission Bay on the other, Mission Beach's narrow spit of sand packs a double dose of the SoCal beach lifestyle. Surf, skate or bike to hearts content, play beach volleyball, or just soak up the sun, the laid-back culture of Mission Beach is always in demand, making it an excellent choice for real estate investment. Many owners enjoy the income stream their Mission Beach properties produce, with low vacancies and weekly summer rentals commanding roughly the same rate as an off-season monthly rental. I have personally owned a rental property in Mission Beach for more than 20 years, and am well-versed in the benefits and pitfalls of the Mission Beach vacation rental market. Let me help you find the right property to serve your needs.
Sorry we are experiencing system issues. Please try again.